Metoree, one of the largest manufacturing database sites in Japan, will expand to the United States of America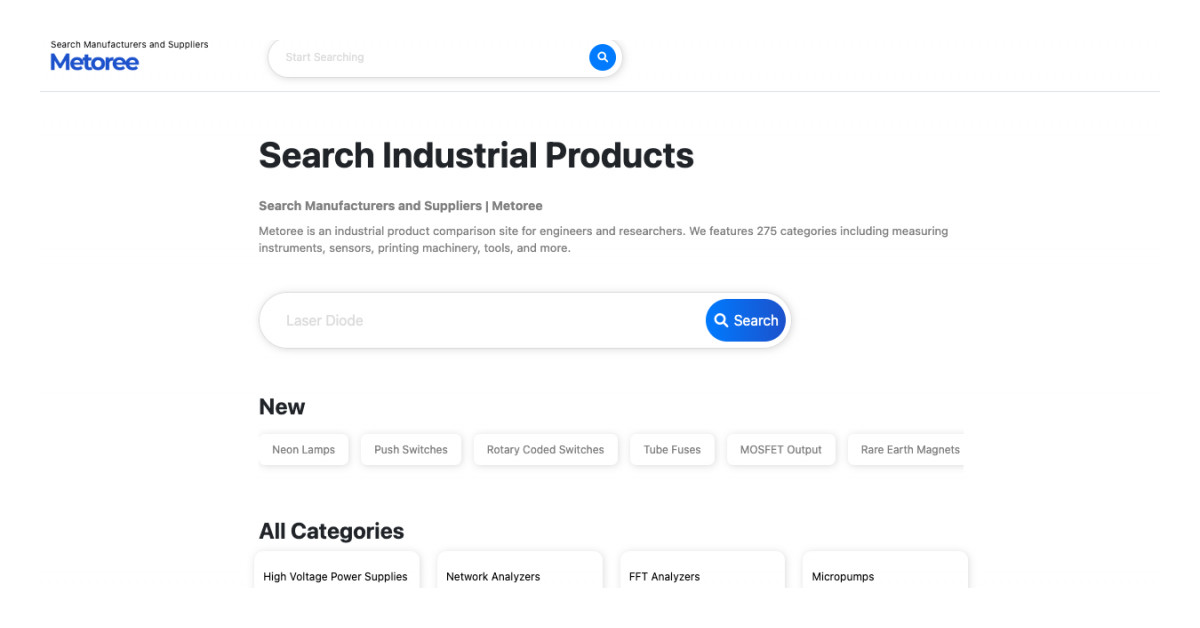 United States of America Expansion of "Metoree", an industrial product comparison database site
Press release
–

October 7, 2022
TOKYO, October 7, 2022 (Newswire.com) –
Metoree, an industrial product information site for engineers/researchers operated by ZAZA Corporation (Headquarters: Tokyo, Japan), is pleased to announce that Metoree has finally begun its expansion into the United States. Metoree allows users to compare all manufacturers of industrial products at once. Currently, there are around 5,300 categories, including analyzers, relays, robots, cables, etc., and more will be added in the future.
Current use of Metoree in Japan
Metoree is currently one of the largest manufacturing industry database sites in Japan. With approximately 30,000 businesses currently registered on the site, it continues to grow rapidly. Many of their users have long been happy with the ease with which they can compare products.
Announcement and future development
They are happy to announce that "Metoree" has finally started its expansion in the United States. They decided to expand their business overseas to solve the problems faced by the manufacturing industry not only in Japan but also around the world. Many companies in the United States would like to introduce their products to the American market, where they started this expansion. In addition to the US launch, Metoree will continue to strive to become the world's largest database site for the manufacturing industry with 10 million users.
Context of the project
Metoree is a website that was started with a desire to solve the problems facing the manufacturing industry in Japan today. They acknowledge that the manufacturing industry currently faces several marketing challenges, including: (1) the inability to exhibit at trade shows and conduct face-to-face sales activities partly due to Corona, and ( 2) the lack of specialized staff in online marketing. And they launched Metoree to solve these problems. They have received very positive feedback from many companies currently registered with them in Japan.
United States
https://us.metoree.com
Metoree Japan
https://metoree.com
Company website
https://us.metoree.com/company
Source: Meteor