All eyes are on Freepik, from an image database to a provider of any other type of content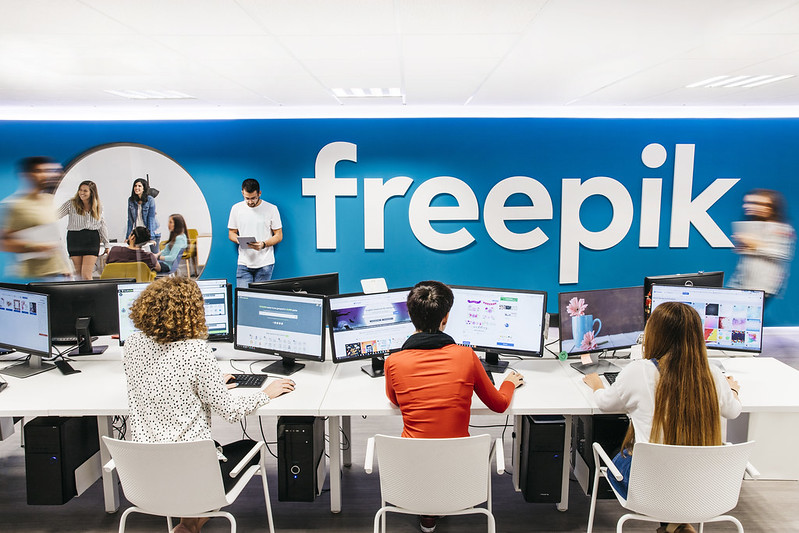 Freepik was founded in 2010 and for over a decade its products have been used by companies like Amazon, Spotify, Microsoft, Nasa, Fedex and many more. For some time people have been calling the company the "Spanish Google for Images": a go-to website for everything from stock photos to all kinds of graphic resources.
The pandemic has crippled photography production globally and provided an opportunity for companies like Freepik to pick up the slack. Since the start of the pandemic, Freepik has become a popular name not only for graphic designers, but for any type of creator.
In October 2021, Freepik overtook its biggest competitor, Shutterstock, in the number of premium subscriptions to its image database. Having over half a million subscribers (and 41 million monthly users) was a big milestone for the company. And now they have even bigger plans.
Exceed expectations
Based in Malaga, Spain's rising startup city, Freepik recently said it was planning its foray into video this year. For now, they offer images (Freepik), icons (Flaticon), presentations (Slidesgo), illustrations (Storyset) and designs (Wepik). According to the company, Slidesgo was the best performing product of 2021 due to the needs of the education sector, especially in the US market. They also offer translations, and their French and German Slidesgo translations have received a very good response. Since 2020, when the Swedish fund EQT acquired a majority stake in Freepik for 200 million euros, international plans have started to roll out with Asia and the United States as targets. There have already been a lot of advances in adapting search engines and platforms for the Korea and Japan markets, and they are starting to see the results. Slidesgo has been particularly important in this expansion. Cuenca also confirmed that they are targeting other niches like mockups, animated icons, and 3D content.
Freepik Labs' first plan is to launch Vidfy, a platform that wants to do what Freepik knows best, but on video »
2021 has been a very good year for them. Freepik's turnover was 37% higher than in 2020 and the highest in the company's history: 61.5 million euros. According to Joaquín Cuenca, CEO of Freepik, the growth exceeded their expectations. This is reassuring because the new subscriptions come from strategic markets in Europe and the United States.
Freemium for all
Freepik operates in a freemium-based model, which stands for XYZ. Paid subscriptions grew by 34% last year, which is great news considering that these subscriptions account for 70% of Freepik's revenue.
Last November, Freepik Labs was launched, a startup within the company whose main goal is to launch more products faster. According to Alejandro Blanes, founder of Freepik, the company's rapid growth meant they were losing the ability to innovate faster. The first plan for the new incubator is to launch Vidfy, a platform that wants to do what Freepik knows best, but on video. The idea is to make free videos more accessible to use on social media, websites, and other platforms. Eventually, they will offer premium access to Vidfy.
One of the key factors in Freepik's success has been the creator model they use to generate graphic assets for other creators. Freepik pays them a fee for every photo, illustration, or drawing people use from the platform. Cuenca said that in 2021 they gave their 18,000 contributors €13 million in fees. In this way, Freepik supports creators who live all over Spain and the world. Since they launched this model, they have given 30 million euros to their contributors. The same will soon be possible on video. And the possibilities for expansion after that, it seems, are endless.